What Must We Do To Revive School Spirit?
Hang on for a minute...we're trying to find some more stories you might like.
There is a picture in the hallway beside Mr. Brannan's office of the student section at a basketball game a few years ago. The number of students who attended the games was insane. Lately, we are lucky to get two rows in the student section. What has happened?  
We have all heard the stories of the days gone by. Yes, our parents and teachers constantly remind us of what high school sporting events used to be like.
Mrs. Carpenter: "The entire town came! That's just what you did."
Mr. Tonsoni: "My favorite memories of high school were school events. For homecoming events, we would decorate the halls until 2:00 AM." Mr. Tonsoni continued saying that, "You didn't want to miss [the game]. Pep sessions were loud and exciting. It was real, not forced. There was a lot more involvement. School was more of a community and an important part of who we were. School events were more important than work and personal hobbies in the '80s."
My questions to the Delphi student body is how we can increase the attendance at our sporting events? What must we do as a student body, as a school, as a student?
Senior Adam Rider said, "I don't attend sporting events sometimes because I have to work. I don't have a choice. I guess I could request a Friday off for a game, but I'm scheduled most of the time."
Senior Graeme Supple also said, "I would honestly go if my friends did," he continued, "but they're too busy being lazy, or some of my friends work." Graeme continued, ". . . and they have to work because they have to pay for their own gas or they are saving up for college. The themes are the fun part though. I'll go to a game if they have a really good theme that night," Graeme said.
What would make going to games even more fun or interesting? Graeme said, "Unite the student groups. A few years ago they actually had cheers at the games, but the people who led them graduated and no one knows those cheers anymore."
These are legitimate issues.  Some students really do need to work to save money. And, let's face it, there is a lot more to do these days than there was back in our parents' generation.
However, I encourage you to re-prioritize your time. I know hanging out with friends on a Friday night is fun, but why don't you come to a basketball game and cheer on your basketball team with your friends and then hang out after. It's only a few dollars to come to a game, but the experience is so much more rewarding. Feeling the adrenaline as the clock is ticking and your team is one point away from winning. When you're shouting chants and jumping up and down on the bleachers, and you hear the band erupting with spirited melodies. The feeling is unbelievably memorable. How do you want to remember your high school career? Staying home and watching television or seeing your peers give it their all out on the court while you and your friends cheer wildly in the stands?
And remember, school spirit goes beyond sporting events. DCHS offers many other events outside of athletics, too, such as the arts. Students put in just as much effort in the arts as other students do in their athletic events, and yet, few people come to support
them. The drama club, for example, practices for three months straight, four days a week, two hours every night. Musical practices take dedication and a lot time is put into each and every show; however, few members of the student body come to support
them in their efforts on show night. Seeing a show performed by people you know is a great way to spend a Friday or Saturday night with friends or on a date.
So you see, there are many ways in which you can have school spirit and many ways in which you can participate in school events. Take advantage of your high school years, Delphi student body, because you're never going to get these years back. Find the school spirit within you and make an effort to come out and support your peers.
About the Writer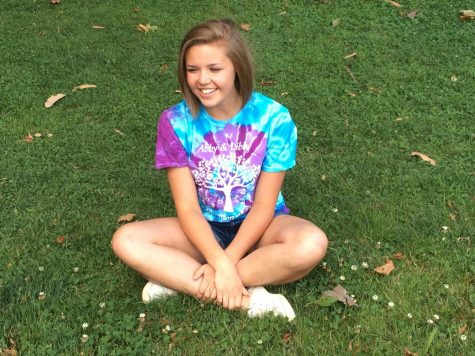 Kristina Powlen, Staff writer
Kristina is a senior at Delphi and it is her first year on the Parnassus staff. She is involved in Interact Club, Student Council, NHS, and Poms. In her...