The history behind Delphi
Hang on for a minute...we're trying to find some more stories you might like.
Many of us have lived in this community for our entire lives, yet what do we know about it? We all had Indiana history back in 4th grade, and surely we have all been through the museum at the Canal Interpretive Center. However, as I sit here on the brink of graduation, I realize that we don't search for a deeper understanding of the very town we call home. So – I went looking for some answers.
In 1824 a plot of land was purchased, which later formed the boundaries of Carroll County. Delphi was one of the very first and largest settlements in Carroll County. The first settlers to make a homestead on Deer Creek were Henry Robinson and his son Abner. Samuel Milroy, our founder, sent in a petition for the organization of Carroll County, and we were official in 1828.
Delphi was originally named Carrollton in honor of Charles Carroll, a delegate from Maryland who signed the Declaration of Independence as "Charles Carroll of Carrollton." It was selected at a Commissioners Board meeting in May 1828. Even though it was picked, not everyone liked the name. Nine days later, at another meeting, the same board wrote a piece of paper with proposed names for the town, one of them being "Delphi" which was obviously their final decision.
The name Delphi was suggested by Samuel Milroy, who was absolutely fascinated with Greek literature. But Delphi isn't the only city in Indiana with a Greek influence. Crawfordsville likes to call itself the "Athens of the Midwest" due to there being about five well-known poets and authors that originated there.  
Since the beginning, our school has stressed that we are the "Delphi Oracles" and our newspaper is named after Mount Parnassus even though the building, all activities, and sports in it weren't founded until almost 100 years later. It's interesting to see that we're still putting the same emphasis on Greek culture that Milroy did in the early 1800's.
About the Writer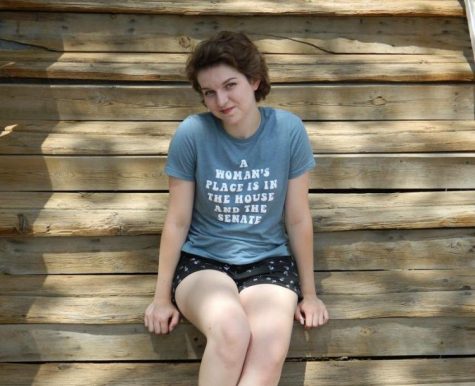 Amanda McCarty, Staff writer/Videographer
Amanda is a senior at Delphi in her first year of Parnassus. She has been involved in French Club and Theatre for the past four years. She is passionate...