Things to do this winter
Hang on for a minute...we're trying to find some more stories you might like.
The temperature is dropping, the leaves are falling and Friday night football has come to a close. So, this all begs the question: what am I to do this winter? You could be an introvert and watch Hallmark's 25 Days of Christmas and Rudolph the Red-Nosed Reindeer. I understand. However, if you have different plans for the season, below is a list of great ideas to do this winter.
For the sports fans:
There are many good games and meets to go to this winter. Although the Delphi-Carroll basketball rivalry is being hosted across the county, there are other events, such as:
Indiana Kitchen Classic

: The basketball tournament is being hosted here this year. It occurs on Dec. 29 and 30, starting at 1 p.m.

Harrison vs. Delphi

: The lone home game on the wrestling team's schedule comes on Jan. 17 at 6 p.m. against Harrison.

College and Professional Sports

: If you feel like a couch potato, there's something for you, too. The NFL and NCAAF are over halfway through their seasons. The NBA is off to a hot start, and college basketball is about to get underway. NHL and college hockey are in action, too.
For the movie buffs:
As most people know, this winter is going to be filled with big movie releases. After all, it's cold and the television can only entertain you for so long.
Daddy's Home 2

: This sequel adds Mel Gibson and John Lithgow to an already star-studded cast as the family heads up North. This movie came out Nov. 10.

The Star

: With Christmas coming soon, what better than a Christmas movie? This PG film follows Bo the Donkey and his friends on a quest to witness the first Christmas. It comes out Nov. 17.

Star Wars: The Last Jedi

: The eighth official installation of the

Star Wars

series is sure to be a hit, considering

Star Wars VII

brought in just over two billion dollars in the box office. The release date is Dec. 15.

Jumanji: Welcome to the Jungle

: This sequel features Dwayne "The Rock" Johnson and Kevin Hart as the world of Jumanji comes back. The film comes out Dec. 20.
For the sightseers:
Well, after all, it is the holiday season and people are getting festive. They're picking out trees, baking pies (my favorite) and setting up Christmas decorations. Here are some local hot spots near Delphi that are worth checking out.
Oaklawn Acres

: This facility located in Rossville, IN is a great destination to go and see some festive lights from Thanksgiving to the New Year. For information regarding lighting hours and location, go to

oaklawnacres.com

.
Monticello City Park

:  If you're looking for a nice, decorative stroll, look no further than the city park in Monticello. Their decorations go up near the beginning of December, and they are placed so that you can just drive right through the display.

Local and nearby towns

: People everywhere decorate for the holiday season. So, take a little drive through town when Christmas starts approaching. You never know what kind of cool decorations people put up if you don't look.
For the bookworms:
For those who enjoy spending the cold months of the year with a good book, there's hope for you as well. There are many new book releases coming out soon, coming in all sorts of different genres. So, here are three to put on your Christmas list.
Christmas Forever by Sophie Love

: For those craving a teary-eyed book this Christmas, the eighth book in the clean romance series

The Inn At Sunset Harbor

comes out Dec. 18.
The Fallen by David Baldacci

: This action and mystery book comes to Barnes and Nobles on Christmas Day. Maybe a little too late for Christmas, but it may be worth getting with some of your Christmas money.
The 2018 Old Farmer's Almanac

: You can't go wrong with the Farmers Almanac. Who else is going to tell you the weather six months in advance?
So, now it's up to you. If you choose the introverted path, the ice cream is in aisle two and the tv remote is downstairs. But, if you're feeling social, there are plenty of things to do this winter.
About the Writer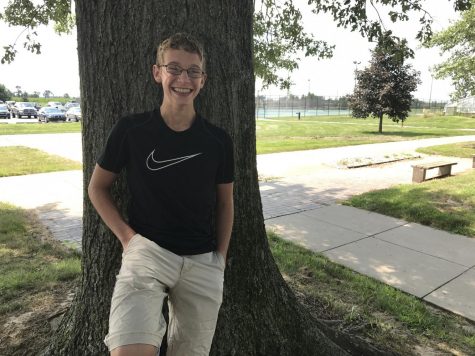 Joe Perry, sports writer
Joe is a junior at Delphi and is in his second year with Parnassus. He plays tennis, cross country, and baseball, and he is also involved with Bracketology...