Fall break in New York City
Hang on for a minute...we're trying to find some more stories you might like.
Fall break is well-timed. We go from the lazy days of summer to nine straight weeks of classes and school activities. Up until this year, I have truly taken advantage of fall break as a break. I would lay like broccoli, watch Netflix, sleep in. This year, however, my dad thought it would be fun to go somewhere for fall break. After months of discussion, we came to a consensus on where to go: New York. My dad, my little sister Jessica Powlen and her best friend Katlyn Sherinian, and I all traveled to the "Big Apple." Our fall break New York trip is now
one of my most unforgettable travel experiences yet.
Day 1: On the first day in New York, we traveled around the city. We went to Times Square, Madame Tussaud's wax museum, and rode a ferry that circled the Statue of Liberty. We took lots of pictures. Later that night, when we went to Times Square, though, the most remarkable thing happened. Mrs. Salyer ran up and said, "Hi!" to us! What are the odds of people from the same state, same town, meeting on Times Square, late at night in one of the biggest cities in the world? It's a small world after all. After saying our hellos and goodbyes to the Salyers, we finished out the day by staying in a quaint bed and breakfast hotel
.
Day 2: Our second day was filled with all sorts of tours. We went through Central Park and learned about all the locations where scenes in movies took place. We went on a Broadway tour where we got to walk around New York and see all the Broadway theaters and learn about their history. We also got to go on The Ride, a comical experience on a bus going through the city with actors along the street entertaining us. We finished the night out by going to see Cats on Broadway. It was a great show. The dancing was insanely good, and the singing was phenomenal.
Day 3: On this day, we decided to take a few more tours, one of which was a movie bus tour. Our tour guide directed us through the streets of New York telling where famous shows, such as Friends, Seinfeld, and How I Met Your Mother, were either taken or the locations that inspired the sets seen in the shows. Our tour guide was hilarious, and whenever he would ask a trivia question about Friends, my hand, along with Jessica's and Katlyn's, would shoot up in the air simultaneously. We also met two actors. Our tour guide for the Seinfeld tour was in One Tree Hill and the second famous actor we met when we went to the Marriott
Hotel to ride the elevators for fun (one of our precious tour guides told us to do it because the elevators are insanely fast) and we met an actor from the newly released Let There Be Light film. Katlyn got a picture with him. To finish out day 3, we went to see another broadway show: Wicked! Wicked is by far one of my favorite broadway shows now
. It has action, romance, comedy, all arranged into one perfect program. It is the perfect show and I would see it again and again.
Day 4: This was our last day in New York, but we did not waste it. We went on even more tours. The most memorable tour, by far, was the NBC tour. We were able to go into the Rockefeller Center and go into the studio for Megyn Kelly's show, and we were 100 feet away from Jimmy Fallon who was rehearsing in his studio the day we were there. The end of the tour was the most fun, though. Everyone on the tour was able to participate in our very own "tour show." Each of us were given a job. There was the host, which was played by Katlyn; the guest, which was my dad; the band, which Jessica and I were a part of; and the other people on the tour played the announcer, cameramen, audience members, and the tech crew. It was a very creative interactive experience and made the tour a lot of fun. We also got to see the Twin Tower Memorial Fountains and tour the 9/11 Museum. It was beautiful and very humbling to see. "May we never forget," that tragic day. That night, we went to another broadway show. We saw Anastasia, a beautiful story about a girl who experiences a tragic event, and, while trying to find herself, she finds love. It was beautiful and since the show was sponsored by Disney, the sets, costumes, and sceneries were breathtaking.
Day 5: This was our travel day, and we had a lot of fun. We listened to Hamilton and Wicked CDs and slept.
Day 6: We got to meet up
with my older sister Mikayla and her boyfriend Corey at King's Island amusement park. It was very cold, but it was totally worth it. We went through all the haunted houses, rode most of the rides, and laughed our heads off. It was a great way to end our fall break.
All in all, it was fun to actually go on a trip during fall break, and I definitely recommend doing it because not only do you grow closer to your family, but you also get to experience new things and see new sceneries. New York is beautiful, and I believe everyone should try to visit New York once in their lifetime, because it was a "once in a lifetime" experience.
About the Writer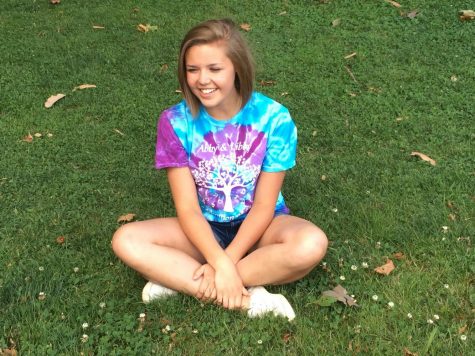 Kristina Powlen, Staff writer
Kristina is a senior at Delphi and it is her first year on the Parnassus staff. She is involved in Interact Club, Student Council, NHS, and Poms. In her...